Fully Tested With 90 Day Warranty In Box Renishaw TP200B CMM Touch Probe Kit with 1 Probe Module.
The TP200 is a electronic probe using strain gauge technology which gives higher accuracy than kinematic touch trigger probes.
Whats included in this sale is one TP200B probe body and one TP200 stylus module kit in box.
Current list price for this probing system is $4731.00
About TP200
The TP200 system components are:
TP200 or TP200B probe body (the TP200B is a variant with increased vibration tolerance)

TP200 stylus module - choice of fixed overtravel forces: SF (standard force) or LF (low force)

PI 200

probe interface

SCR200

stylus changing rack
There is also an EO module (extended overtravel) which has the same overtravel force as the SF but provides increased operating range and protection in the probe Z axis.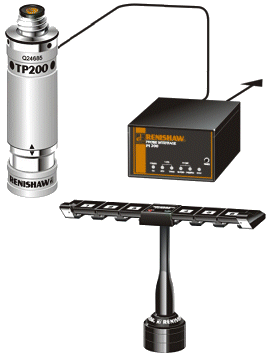 This is by the far the best price you will find on a Renishaw TP200B Probe Kit With 90 Day Warranty.
Why pay retail prices when you can purchase with warranty from Metrology Parts.
Purchase with confidence from a Paypal verified retailer.
If what you order is not what you receive you will be refunded the full purchase price for this sale.
Metrology Parts would like the opportunity to earn your business for this sale and all of your future Renishaw needs.
If you have any questions feel free to contact us. With 35 years of experience with Renishaw products we can help with all of your application needs as well as your after sales support.